One of the most annoying things about Mail.app application in Leopard is its paste with formatting feature. Some might find this useful, but I ended up with emails that looked like this!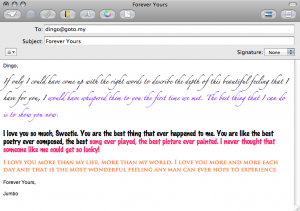 That's surely unprofessional by any standard.
There's already a simple fix for this however. You can just press Command + Option + Shift + V. Try that. Seriously. Try and press all that 4 buttons together. I don't think anyone would want to repeat that command stroke every single time.
In order to set "Paste and Match Sytle" as the default paste command, just complete the following instructions:
Launch System Preferences.
Click on the small + box at the bottom left of the window.
There you have it. Perfectly formatted pasted information in your mail (or any other applications that comes with the feature) all the time.